To see and so in Alghero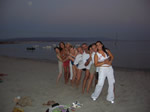 Day-trips and excursions
Daily and weekend boat-trips along the Riviera del Corallo and Capo Caccia.
Guided tours to the nuragic settlements of Palmavera and Torralba, to the necropolis of Anghelu Ruju, to the prehistoric sanctuary of Monte d'Accodi and to the Roman city of Turris Lybissonis.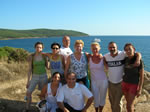 Guided excursions by jeep or mini-bus in the evocative mountain ranges of Gennargentu and Limbara, and Supramonte in the astoundingly beautiful gorge of Su Gorroppu (the deepest canyon in Europe) or to Tiscali which is inaccessible by car and can only be reached on foot.
Note: a free tour for all the students attending to Italiano in Riviera courses! (Possible destinations: Stintino "Spaggia della Pelosa"; "Nuraghe Palmavera" e "Necropoli di Anghelu Ruju"; "Parco naturale di Punta Giglio"; "Torre del porticciolo" e many more). To access to a free tour you have to book at least for a two weeks course.