L'ÉCOLE ET LES DIFFÉRENTS COURS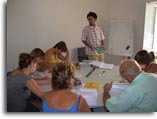 L'école est située en plein centre historique d'Alghero, une position idéale pour rejoindre les plages de la Riviera del Corallo, pour faire du shopping dans les ruelles animées du centre ville ou flâner autour du port touristique.
Nous proposons des cours d'Italien Général : 20 leçons / semaine, Italien et Cuisine, Italien et Sport (Voile, surf, tennis,etc.)
NOUVEAUX: Italien et Latin, Italien et Histoire et beautés artistiques de la Sardaigne!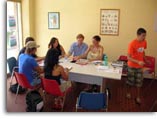 LA QUALITÉ DES COURS DE "ITALIANO IN RIVIERA"
Des enseignants de langue mère qualifiés, des méthodes d'enseignement simples et efficaces, des classes peu nombreuses avec un maximum de 6-8 étudiants, une atmosphère ludique et stimulante.
L'objectif prioritaire est d'améliorer rapidement les capacités communicatives de l'étudiant. L'apprentissage de l'expression et de la compréhension écrites et orales de la langue italienne, avec une insistance toute particulière à la conversation, progresse rapidement grâce à la diversité des activités pratiques. Notre méthode favorise la participation active et l'interaction en classe, encourage l'intégration des étudiants dans la réalité italienne linguistique et culturelle.
Un staff cordial et disponible sera à ta disposition pour toute demande de renseignements et d'assistance.

CONDITIONS
Courses
Lessons generally take place in the morning from 9.00 a.m. Each lesson is 50 minutes long. Courses could also be taught in the afternoon due to the availability of classrooms or lessons with the same schedule.
Entrance test is performed on the first day of the course, that is on Monday mornings.
Based on the results of the entrance test the School will decide autonomously which class each student should attend, according to different levels.
In the exceptional case that only one student attend to class, the Group Courses scheduled for 4 hours duration will be transformed into Individual lessons and then reduced to 2 hours. The lesson's duration will also be reduced from 4 to 3 hours if only 2 students had ,enrolled for each class.
Tuition deposit of €150 will not be refunded in case of cancellations.
15th of August: NATIONAL HOLIDAY (School closed)
Accommodation
Italiano in Riviera does not have his own accommodation available, but offers contact between students and landlords or guest houses willing to offer accommodation.
The School offers a selected range of accommodation, trying to ensure always the best conditions for the students, but cannot be liable for controversy between the landlord and the student himself (fact that has never happened in the past).
En raison de l'absence d'alternatives, en particulier dans les mois de juillet et août, il n'est pas possible de changer d'hébergement (appartements, familles, etc.) une fois que les étudiants arrivent à Alghero.
All the students are required to pay a refundable deposit of €100 at the moment of their arrival in Sardinia. They are asked to pay attention to the cleaning of the room or the flat that they are sharing. The deposit will not be refunded if the room or flat will be damaged or things result missing.
Arrival and departures
Applicants are expected to arrive on Sunday, because lessons start on Monday.
The accommodation should be left on Saturday, that is to say the day after the end of lessons (lessons usually finish on Friday). Different days for arrival and departure can also be arranged previously with the School; in this case the student will be charged with an extra fee of 20,00 to 45,00 per day, depending on the season.
Fees
The School must receive bank transfer for the payment of the tuition and the accommodation before the courses star. Payment by credit card cannot be accepted for security reasons, both for the School and the student.
Payment can also be done cash on the day that the Course start.
If this condition is not fulfilled, the students will lose any chance to continue the Course and stay in the accommodation pointed out by the school.